Safety audit is the most comprehensive way for a company to gauge the efficiency, effectiveness and legality of its total health and safety management system.
In addition to ensuring that a business remains in compliance with the legislations, safety audits have the potential to identify and correct oversights that could, if left unchecked, lead to costly and tragic workplace injuries or fatalities
EGSS has basically 3 priorities in conducting Safety audit:
Uncover issues that endanger people's health and safety.

Identify areas of non-compliance with occupational health and safety regulations.

Assess other opportunities to improve the program.
Our safety audits are a form of OCCUPATIONAL HEALTH & SAFETY RISK ASSESSMENT, we assess the risk and provide you with possible solutions based on the regulations and best practices.
INDUSTRIAL AUDIT: IS 14489-2018
OBJECTIVES:
Systematic, critical appraisal of all potential hazards involving personnel, plant, services and operation method
Ensure that OH&S system satisfies the legal requirement and those of company's written policies, objectives and programs.
METHODOLOGY:
Identification of area of OH&S which requires improvement
Assessment of effectiveness of measures taken for controlling the hazards
Recommendations of measure to strengthen the system
Implementation of measures
Monitoring of changes
FREQUENCY
Safety Audit shall be done in combination of External and Internal audit.
---
Once in two years by an external party/ As per Statutory requirement.
And once in every year by internal party
Industrial Safety by EGSS covers all aspects of safety and health majorly categorized into but not limited to:

Health and Safety Policy

Safety Inspections
Safety Education and Training
First Aid & Occupational Health Centre
General Working Conditions – Housekeeping, Noise, Ventilation and Illumination
Hazard Identification and Control
Safe Operating Procedures
Waste Disposal System
Personal Protective Equipment (PPE)
Fire Protection
Emergency Preparedness

Machinery and Infrastructure Check
SAFETY REPORT (SCHEDULE 8 MSIHC RULES & MAH UNIT)
Prepare the safety report in case of any new industrial activity and submit a copy within 90 days to the concerned authority.
---
Schedule-8

states the information to be furnished in the safety report.



CONSTRUCTION SAFETY AUDIT



Have you ever considered how safety audit can benefit your construction company?
Construction worksites and industrial facilities have their unique sets of safety challenges and issues. Making sure your company is set-up with the right customized safety management plan is your best option for ensuring compliance and employee protection.
EGSS has experts in place, just right for your site.
We perform safety audits as per the regulations and standards to make your site safe and compliant.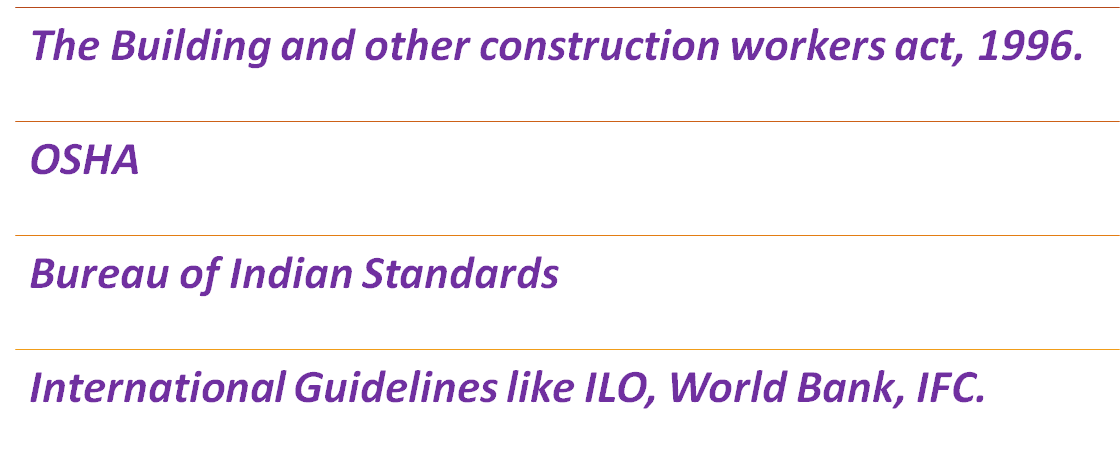 Outcome of the audit:
Identification of construction Hazards

Development of safety management plan

Recommendation for future improvement

Compliance review

Gap assessment


OFFICE WORKPLACE SAFETY AUDIT


Generally, offices are considered safer to work as compared to industrial and manufacturing set up. But there are significant risks and hazards too.
Though the type of incidents can differ according to the setting, but some common workplace injuries can happen due to:
Office area (Slip, Trip Fall)

Ergonomics

Equipment Hazard(Cutter, Shredder, Laminator)

Storage Area

Electrical Hazard

Restricted Access

Fire & Emergency Hazard

Parking areas.



---
Benefits of Office Workplace Safety Audit:
Personnel Safety

Reduced sick leave and absenteeism

Legal cost and insurance saving

Employee Retention

Productivity and gains
Workplace assessment for Safety and Hygiene (WASH)- Quality Council Of India
The assessment can be done as an on-site assessment or remotely through a virtual system of assessment by trained assessors. The assessment report generated will provide the applicant with an objective assessment of the safety and hygiene measures undertaken by them to mitigate the risk of COVID-19 infection.






UNCOVER YOUR WORKPLACE HEALTH AND SAFETY ISSUES TODAY.