Protecting Lives, Property and your business.
When it comes to fire prevention and protection, safety is not something we can take for granted.
Ensuring Life safety is most essential aspect for all codes. A fire can happen at any time at any place. The recent major fires in the country has reinforced that fire can happen at any place and can cause potential harm to the life and property of its occupants.
Here at EGSS, we work hard to keep your life and property safe. We do that by providing prompt and reliable audits, training, equipment installation, inspection, maintenance, and repair services . With over 10 years in the industry, we can make sure your fire prevention and protection systems are up-to-code and ready to fight fire in the event of an emergency.
Fire and Life safety audit is an effective and essential tool for assessing fire safety standards of an organization or occupancy. NBC recommends for periodical fire safety audit by the key personnel of the occupants of the buildings. In case of industrial buildings the statutory authorities insist for fire safety audit by external agencies depending on the type of activity and nature of materials handled in the building.




As mentioned in NBC,2016 "All high rise (15m and above) buildings must get FIre safety audit done by third party once in every 2 years."

Recent Fire incidents in Hospitals of Rajkot and New-Delhi, has also led to Supreme Court Judgement directing all states to get FIRE SAFETY AUDIT done of dedicated Covid-19 Hospitals.
NEED OF FLS AUDIT

Fire safety laws & regulations compliance.

Organization's commitment to health and safety

Address non-conformities and improve work quality

Avoids unnecessary prosecution, litigation, absence costs & loss of reputation

Lowers down the insurance premiums & indirect cost of workplace injuries

Enhanced employee awareness about fire & life safety measures
AUDIT METHODOLOGY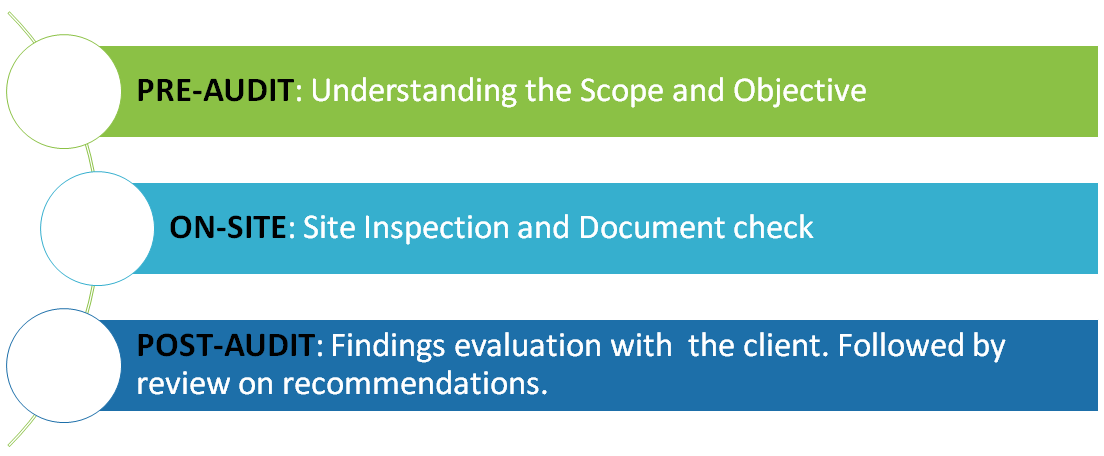 OUTCOME OF FLS AUDIT
Findings and Recommendations based on Risks.

Quantitative outcome : Score based performance assessment

Gap assessment based on legal requirements


EGSS, audits checkpoints cover all national rules and regulations (NBC, 2016 and Indian standards). In addition, we recommend best practices as per international standards and practices. The competent team of EGSS has experience of Fire & Life safety audit of all industrial sectors like:
Manufacturing

Chemical

Pharmaceutical

Warehouse

Commercial

Residential


FIRE & LIFE SAFETY TRAINING
We plan and prepare you for Fire and emergencies. You are safe with us.
EGSS has found that best way to avoid any fire is by acknowledging the fire hazards and how to prevent them.Our Fire and Life Safety Training program covers:
Fundamentals of Fire

Legal requirements on Fire and Life safety

Fire Hazards- prevention and risk assessment

Principle of Fire fighting

Practical Training on safe use of Fire Fighting equipment

Life saving techniques in emergency

How to Plan, Mitigate, Response and Recover from Fire
We work with you from the Commencement to the Conclusion of the project.
It's vital to install fire safety equipment in your industrial, commercial or residential building to avoid the loss of lives, property, and business in the event of a fire. If you are looking for the best fire safety services, contact EGSS. We help you save your people, detect and fight the fire and prevent your production downtime.
---
FIRE SYSTEM INSTALLATION
We work hand-in-hand with owners, architects, general contractors, and other trades to ensure that your fire protection, and/or suppression systems, are integrated within your facility in a manner that does not interfere with the aesthetics of construction, and other building components. We accomplish this through collaborative project management. Our work process is SITC: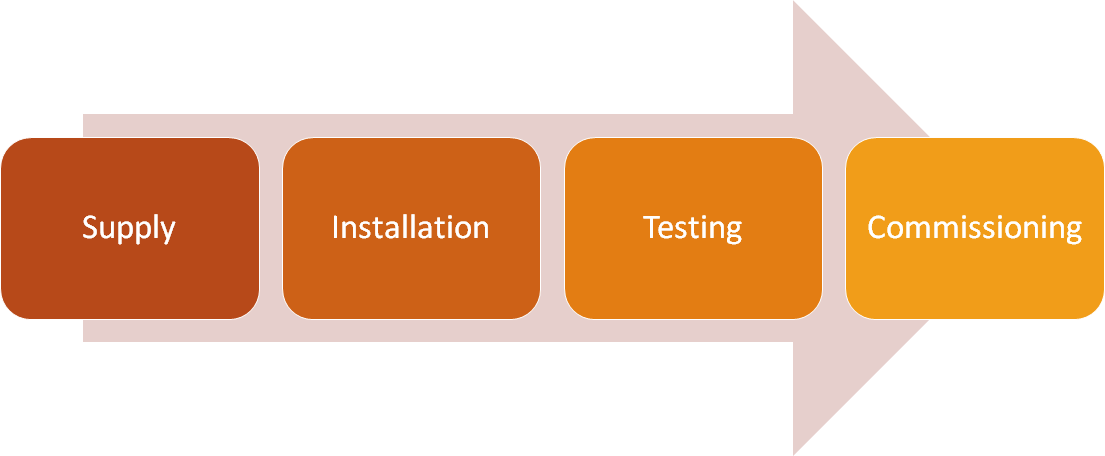 We provide SITC for all fire related system:
Fire Detection System




Fire Suppression System

Manual Call Points

Smoke Detectors

Heat Detectors

Beam Detectors

Fire Alarm System






Fire Hydrant

Hose-reel

Fire Extinguishers

Automatic Sprinkler System

And So on





---
Worried about the maintenance? We've got it covered too.
ANNUAL MAINTENANCE CONTRACT
An agreement with a service provider for maintenance, repair and support service of Fire & Life Safety system.
EGSS has dedicated team for maintenance and support services for its clients. We provide legal maintenance contracts for Fire and Safety regulations to meet the needs of clients in different sectors. Our maintenance service ranges from annual maintenance contracts to maintenance service on daily basis, provide permanent work force at sites if required.
Maintenance Contract covers Fire Alarm System including Fire alarm control panel, initiating devices, notifying appliances and other auxiliary devices; Firefighting systems including firefighting pump set, fire hose reels, hydrants, etc. and portable fire extinguishers.


We provide both Comprehensive and Non-Comprehensive AMC for your Fire Safety System.
•Comprehensive AMC
The analysis of breakdowns/faults in the hardware and repairing/service is taken care of by the service provider. This includes spare parts replacement. Apart from this, preventive maintenance is also done, on a pre-determined/agreed-to frequency.
Note: It excludes all physical mishandling or damages.
•Non-Comprehensive AMC
This is similar to a Comprehensive AMC, but in this, the cost of spare parts replacement must be borne by the customer. This usually means only service. Preventive maintenance comes under this and a consultant will advise on hardware bread down.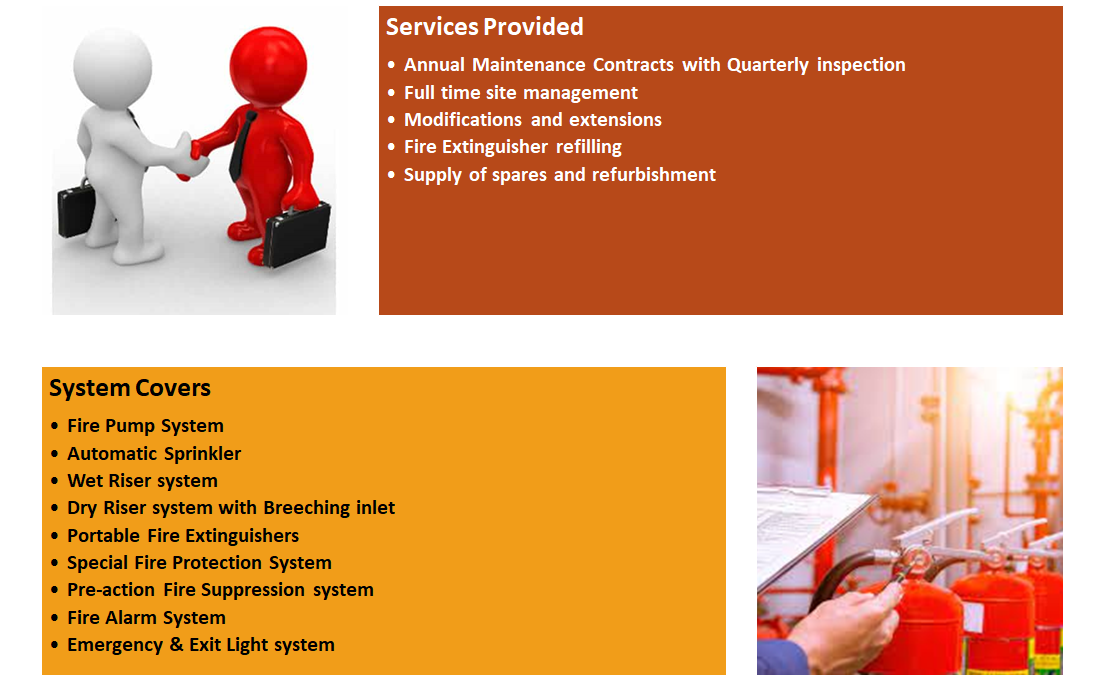 ---
FIRE EXTINGUISHER :REFILLING & MAINTENANCE
Firstly, Used fire extinguisher, even partially, is useless in case of a subsequent fire scenario. Secondly, The statutory framework in the country makes it mandatory for the shell of the fire extinguisher to undergo Hydrostatic Pressure Test every 3 years
Hence it is essential to get the fire extinguisher recharged immediately, without any delay.
| | |
| --- | --- |
| Our Services are performed as per legal requirements and standards: | |
NEVER AT RISK WITH EGSS
With every Refilling request, we arrange thorough check as per IS 2190 and other standards and ensure that extinguishers are always in ready to use conditions. Along with refilling, we take comprehensive AMC exclusively for Fire Extinguisher so you don't miss any regular inspection and timely refilling. We also arrange:
Hydrostatic Pressure Testing

Monthly/ Quarterly checks

Operational checks during drill

Placement of extinguishers as per fire load and risk




As per NBC 2016, Fire load is defined as Calorific energy, of the whole contents contained in a space, including the facings of the walls, partitions, floors and ceilings.
Fire Load calculations leads us to the determination of requirement of fire safety system and safe storage of material within a specified space, in order to keep the occupants and property safe.
Fire load = Mass x Calorific value / Area
(Kcal per square meter)
We, at EGSS has team of experts to perform this analysis for you. Our reference standards are:

Our methodology:

Inventory Method

Weighted Method

Combination Method
Fire load calculations requires various inputs like:
Layout plan

Major compartments/blocks within the facility.

Inventory of materials

Situational and Seasonal Impacts on inventory

Site Observations
Outcome:
All buildings can be graded according to their fire hazard and are to be provided for with suitable fire precautions on the basis of the fire load. Hence, the grading of buildings according to both fire load and fire resistance can be made.
Once the fire load calculations is completed, next step is Fire risk assessment
FIRE LOAD CALCULATION
Assessment of potential risk due to the outbreak of fire and providing solutions for mitigation.
A comprehensive fire risk assessment covers various aspects which are related to design, operation and maintenance of building premise and even the review of inherent fire hazards associated with the normal day to day business operations.
The scope and methodology of comprehensive fire safety risk assessment is directly or indirectly related to National Building Code, 2016, building by laws for fire safety, various other India Standards and fire departments of local/ national authorities.
With the objective to perform a systematic and critical evaluation of Fire Safety of the occupancy and suggest recommendations to improve fire safety standards.
Our methodology to conduct FRA:




Identify :All applicable statutory requirements on the clients building

Assess : Site visit, Potential Fire hazards check, Fire load calculation,

Outcome: Solutions and recommendations to the client based on gap assessment



IRE LOAD CALCULATIONFIRE LOAD CALCULATION
FIRE SAFETY AUDIT - HOSPITALS (NABH)



Fires can be devastating, especially in a hospital where a large number of people who need to be evacuated may be vulnerable – immuno compromised, on life support, and incapable of moving on their own. There are special requirements that must be met with while evacuating such people in case of fire emergencies. But before that – "fires must be prevented.
As per NBC,2016 it is a legal requirement for all hospitals to obtain No objection Certificate from the concerned fire department. With an annual renewal.

However, NABH has notified that in case Fire NOC is not available with the Hospital, the hospital must ensure.

Also, recently, Supreme court has stated "

"The (dedicated COVID-19) hospitals which have not gone for the renewal for fire NOC should get it renewed within four weeks and action be taken if the renewal has not been obtained," the bench said, adding that "The hospitals which have not taken fire NOC should immediately go for it.

" It said that every state is obliged to appoint nodal officer to ensure that there is no repeat of fire incidents in hospitals which had taken place in Rajkot and Ahmedabad.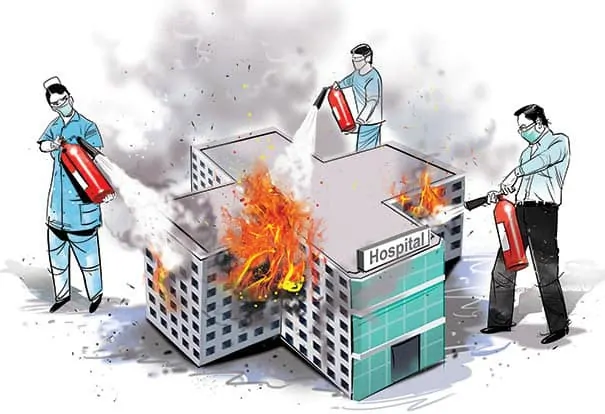 Obtain a Fire Safety Compliance Certificate from a reputable and credible third party agency, based on an in depth Fire Safety Audit of the hospital, by the agency. The Audit Report and Certificate will be submitted to NABH. https://nabh.co/Images/pdf/ClarificationonFireSafety.pdfOn review of the assessment and fire safety audit reports, NABH may advise a verification visit to the hospital, wrt fire safety. This will be done on a case to case basis.
EGSS provides Third party Fire Safety Audit with actual observations, solutions and recommendation report. Complete follow-up and review. Followed by a certificate.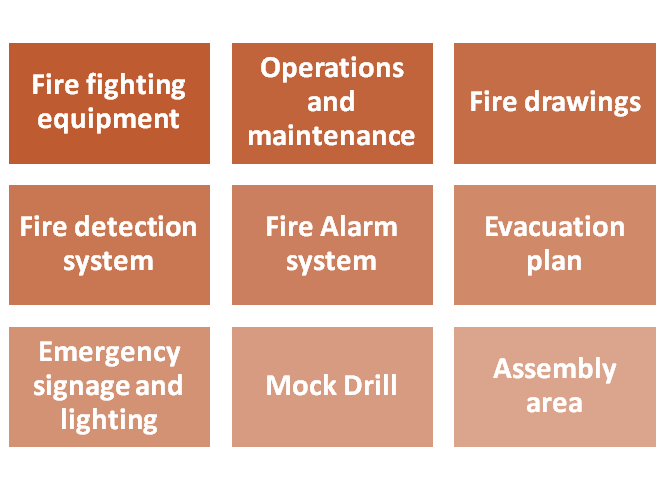 Fire drill also known as Mock Drill is an exercise to practice safe evacuation from the building, fire suppression in case of small fires and rescue & first aid to the victims.The evacuation process is clocked to ensure that it is fast enough to avoid any harm to the occupants. Fire drill procedure may vary depending on the type and process of the buildings.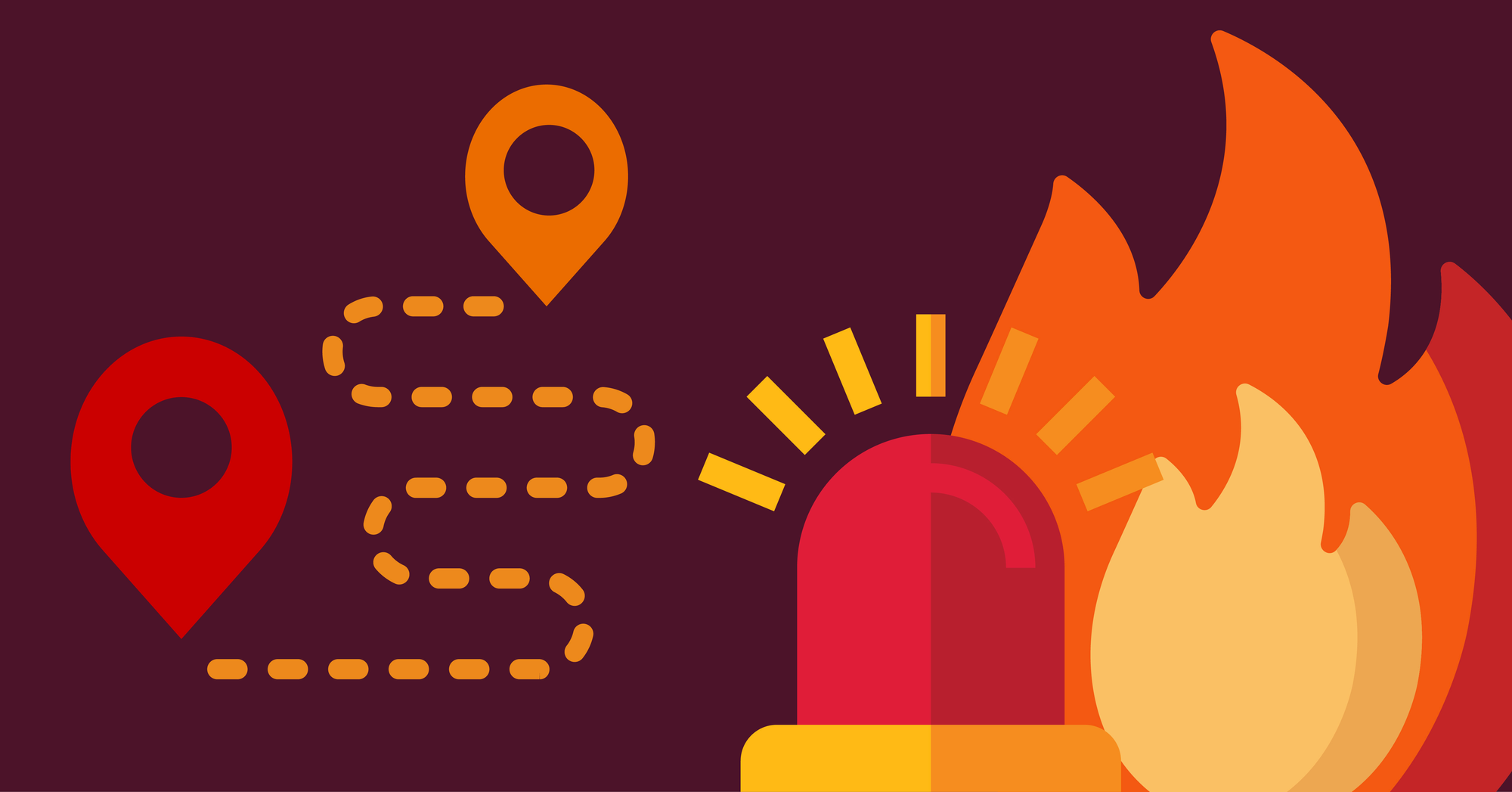 PURPOSE:
To ensure everyone knows how to evacuate safely.

Legal compliance

Fire alarm system check

Fire fighting system check

Evacuation system check

Rescue and first aid system check


EGSS facilitates fire and emergency drills in all types of buildings as per their respective evacuation plan. EGSS has its unique way of making people aware of the fire emergency and preparing them to evacuate safely. We also organize Emergency Drills.
In Emergency Drill we evacuate a building when the conditions inside the building present a hazard to human life, health or safety. If the conditions outside of a building presented a hazard to human life, health or safety, one would reverse the evacuation steps and shelter inside a building. Emergency Drills covers preparedness for Bomb Threat, Rescue, Terror attack, Earthquake, Medical Emergency, Chemical Spill, Basement flooding, and many other scenarios.
Our drill process involves:
Prior meeting with Emergency Management Team

Mock fire and Victim

Fire Alarm

Teams- Fire fighting, Evacuation, Rescue, First aid

Assembly ground

Brief training session on fire and evacuation

Demo of fire extinguishers, Hydrant and Hose-reels.

Closing meeting with Emergency Management Team

Review on time of evacuation, observations during the drill and recommendations


Fire NOC issued by the respective state fire service verifies that a building is resistant or unlikely to observe any fire related accidents. By meeting certain guidelines laid down by the fire department, an applicant can obtain NOC for his any type of building covered under the criteria of Fire NOC.
Why do you need a FIRE NOC?
Legal Requirement

Ensure safety to life and property

Ensure appropriate fire fighting system
The no-objection certificate is issued by the Fire department after verifying and auditing the building's fire resistance and fire safety mechanism which should be at par with the fire safety standards and guidelines as stated by The Bureau of Indian Standards(BIS) and concerned state government respectively. After complete inspection when the fire department finds the safety mechanism meets the required standards, it issues the NOC (Non-Objection Certificate) for the commercial/residential building of the applicant.
The Fire Department NOC is issued by the respective states' fire service department which verifies and checks the building fire resistance or that the building can observe any fire-related accidents.
As per NBC, High-rise buildings having a height of more than 15 meters or multi-story buildings are required to obtain Fire NOC from Fire Service Department of their state. However, different states have their own regulations mandating Fire NOC for buildings.

Apart from this, according to NBC Part 4, buildings of the following categories are under obligation to observe fire and safety measures.
Residential occupancy with part commercial usage (irrespective of height).

Educational Buildings (Schools, University, Colleges, etc.).

Assembly Buildings (Cinema Halls, Ceremonial Houses, etc).

Business Buildings having offices.

Institutional Buildings ( hospital, nursing home, etc).

Mercantile Buildings (shops, warehouse, etc).

Industrial Buildings.

Hazardous Buildings.
EGSS facilitates your application for FIRE NOC, whether new or renewal of already existing. We perform all the required checks and preparations for our clients. From inception of this work till the Fire NOC in hand.
Document Check

Fire safety system check

Fire fighting professionals check

Application

Fire audit with State Fire Officer

Obtaining Fire NOC



TRAINED FIRE SAFETY PROFESSIONALS OUTSOURCING



EGSSs' fire safety professionals are trained to the highest standards in order to save lives and protect property.
Role of Fire Safety Professionals:
Trained fire fighters

Maintenance of fire safety system

Identifies fire hazards at their workplace.

Reporting of hazards to the appropriate person.

Conducting consistent assessments of the building.

Ensure that everyone leaves the building during an evacuation. They must do this as quickly and as orderly as feasible.

They will also make the area as safe as possible in the case of an emergency.



Our process of outsourcing fire safety professionals to the client: